Model for commissioned work.
(See Instagram for additional images)
Colored Concrete Bench Assemblage
(Scale model for commission)
Humorous visual puns give way to thought provoking commentary. The first foot of topsoil on earth is the most nutrient rich and productive.
Material: Stainless Steel and Topsoil
Approximate Dimensions: 9' x 4 1/2' x 12" high
2000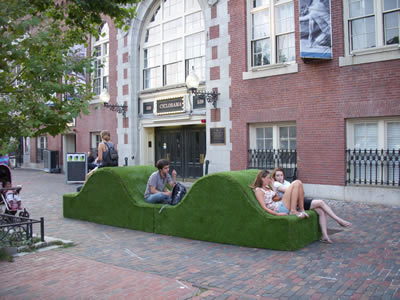 Public art comes in many different forms, and one form that I find particularly exciting is urban street furniture. These unique, but functional objects push the boundaries of art, design, and public ownership. When people are lying in the saddle between the hill forms they are, if only for a moment, in possession of their own real estate.

Rolling Green Bench, Boston Center for the Arts, Boston, Massachusetts

Approximate Dimensions: 2 modular units, each unit is 4' x 3.5' x 8'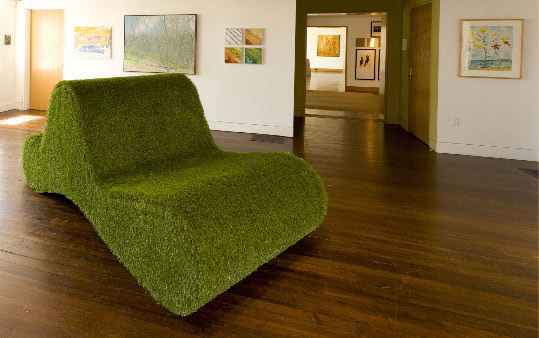 © James Owen Calderwood 2011
Materials: Artificial Turf
Dimensions: 8' Length x 4' Width x 3 1/2' Height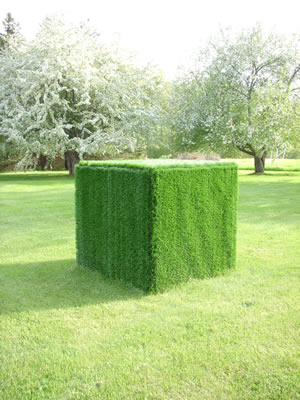 Artificial Turf
Approximate Dimensions: 4' x 4' x 4'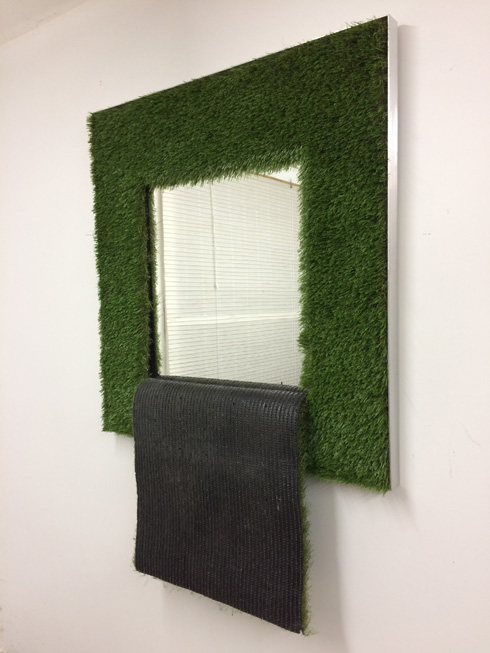 The Grass is Always Greener
A square flap of artificial turf has been cut and allowed to hang down revealing its utilitarian underside. As we look into the mirror framed by the green grass we are confronted with this dark underside.

Materials: Artificial Turf, Mirror, Aluminum Frame
Dimensions: 60" x 42" x 4"
Material: Iron, Ironing Board, and Model Figures & Trees.
Dimensions: 3' Ht x13" x 5'n)
Material: Webber Grill, Figures, Charcoal, and Model Figures & Trees
Dimensions: 3' Ht. x 22" x 22"
Painted Cardboard
Dimensions: 3' height x 6' wide
Painted Aluminum
Dimensions: 7' height x 4' wide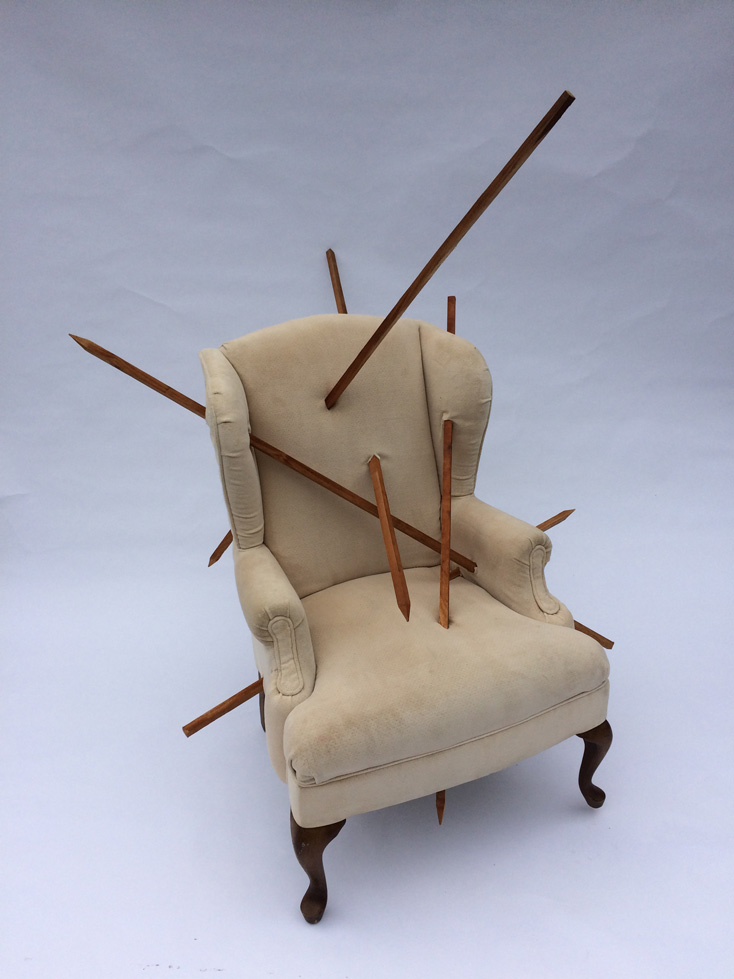 This piece consists of an old easy chair upholstered with worn ivory velvet. The body of the chair is pierced by long wood spears in numerous places. Among other images, the chair's distress recalls the martyrdom of Saint Sebastian, a favorite subject of Renaissance painters. Copyright Jamie Calderwood 2018 Materials: Wingback easy chair and wooden spears
Dimensions: 46" x 54" x 59" Ht.