This piece consists of an old easy chair upholstered with worn ivory velvet. Shaped for a user's support and relaxation, the chair's back, arms, and legs mirror the human form it serves. In this case, however, the chair is no longer easy. Arms tightly bound with rope, it cannot comfort others or itself. Copyright Jamie Calderwood 2018 Materials: Wingback easy chair and rope
Dimensions: 30" x 30" x 42" Ht.
Materials: Baltic Birch Plywood
Dimensions: 56" x 48" x 48"
(Available in polished stainless steel)
Materials: Welded Aluminum
Dimensions: 9' height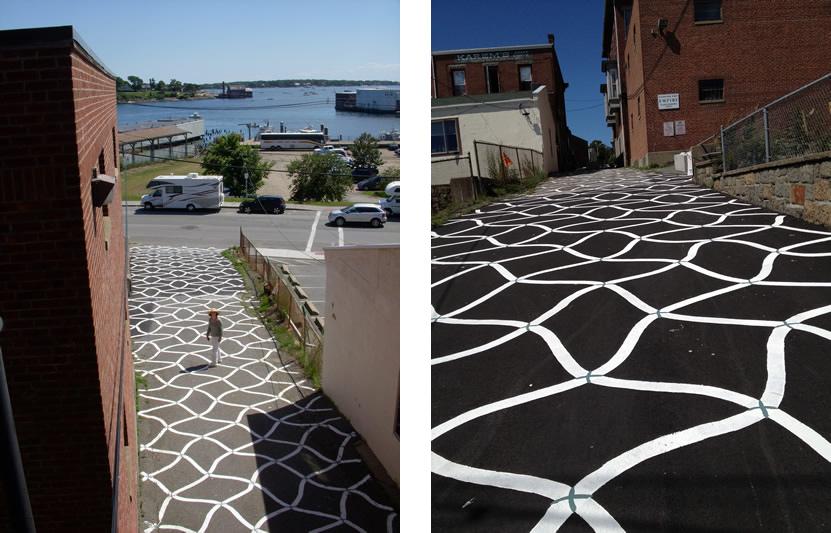 Fish Net is a painted street mural that extends the entire length of Parsons street (from Rogers street to Main street). Parsons street functions as an important pedestrian link from the Harborwalk below to the center of the city. Fish nets have been an important part of Gloucester's fishing industry, and this piece will foster a connection between the sea and the city.
This piece was commisioned by the Committee for the Arts on behalf of the City of Gloucester for the 2013 Harborwalk Public Art Challenge, with funding from the Seaport Advisory Council, Commonwealth of Massachusetts.